Finding Access-Friendly Facilities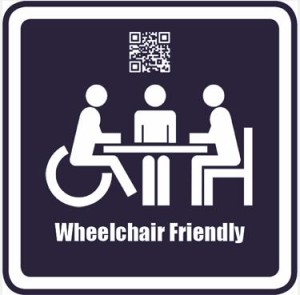 Planning for travel as a person with a disability will require you to put forth considerable effort in order to insure a comfortable and relaxed experience. If you use a wheelchair or scooter, taking the time to plan your trip for business or pleasure will pay off big time. You may find it challenging to find facilities conducive for your away from home comfort. But with the right preparation, you can find the accessible facilities you want and need without compromising your comfort and enjoyment while away on business or vacation.
For example, you may not think about: whether facilities should be accessible from a reasonable route to an entrance. An accessible pathway should be connected to a convenient route to the building. The parking access path should either merge with an unobstructed route or be directly connected to a parking area. Also accessible parking spaces should be in a paved parking lot.
When getting ready to go on a trip, go ahead and seek out the opinions of friends with a disability who have been to places you plan to travel to. Previous customers of hotels, restaurants and places you want to visit will assist you in locating suitable accommodations.
Call ahead and ask questions about accommodation specifications.
Frequent wheelchair travelers prior to making reservations say that asking specific questions about ramps, restrooms, doors and height measurements can save you from disappointment.
Has this happened to you?
Have you had to use the bathroom at a hotel or restaurant where you made a reservation and came across a poor attempt at providing an ADA compliant restroom? The grab bars were in the wrong place, and the lack of attention to the convenience of disabled customers was clearly evident. If so, let us hear about a positive experience that has come out of it.
Recommendations
Hotels usually come to mind when planning your trip. Popular hotel chains are good places to start your investigation. Remember to call and ask about honoring room reservations and accommodating your special needs.
Before traveling to your business or vacation destination, try to avoid hotel problems that can ruin your trip. A travel guide could help you plan ahead with hotel staff and discuss what else you may need to take to have the most comfortable and enjoyable experience.
Author Antoinette-Marie Williams is a Handicapable world traveler and entrepreneur with a mission to help the disabled community become more independent. She provides services via her online presence at: www.disabledaccessnyc.com and you can order her informative "Handicapable Travel Guide" for more travel tips at: http://ToBeDetermined.com
---