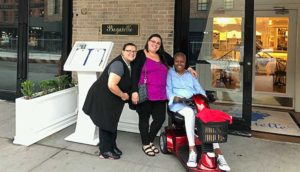 On the evening of Monday, August 13th, the entrance door stood wide and inviting as I rode my motorized "Ferrari" scooter into Bagatelle, a fine French Mediterranean restaurant at 2 Little West 12th Street in NYC's Meatpacking District.
Arriving for our 7:30 reservation along with my goddaughter and her parents, we were welcomed by the Hostesses Sheryl and Hicham, the Floor Manager. We were escorted to a round, white-clothed table large enough to comfortably seat 6. The aisles were also roomy enough for me to easily make my way to the table and swivel my scooter seat into dining position.
Bagatelle's walls had modern art around the entire room, with many amazing sculptures and chandeliers. Abdul brought bottles of sparkling water and a 2014 Xavier Flouret 'Oscar' Cabernet. Michelle, the Manager, who made our reservation, greeted and informed us of Bagatelle's disabled access accommodations.
We experienced the chef's choice of Bagatelle's finest cuisine. Our palates anxiously awaited this tantalizing adventure. Our main server Medi gave me a good reason to practice my French, started us off with appetizer's: Pizza à la Truffe Noire, Tartare de Thon Bagatelle, Gnocchi Truffés à la Parisienne and the evening special, a spicy seared Japanese Hamachi. Each of us had a different favorite although all were equally enjoyable.
Soon after the artfully presented main course, we were once again pleasantly surprised. Served to us family style was Le Steak Au Poivre in a cognac peppercorn sauce, Saumon d'Ecosse over charred market greens and topped with a tomato vinaigrette, and the table favorite - Poulet Rôti Entier à la Truffe, a whole farm-raised truffled chicken, country style potatoes, caramelized cipollini, button mushrooms, and thyme chicken jus.
We also enjoyed sides of crispy to perfection pommes frittes, a delectable Aligot Pomme Puree and the tastiest heirloom carrots I have ever had. We ended our meal with cappuccinos and a lovely dessert plate that we also enjoyed.
While waiting for Access-A-Ride, Harold, another server, escorted me and my goddaughter to the far end of the restaurant, through a door I thought was the disabled access restroom. But in fact, it was a secret elevator (more VIP access for me and my Ferrari), down where the restrooms are. Harold met us again as the elevator doors opened and showed us to the ladies' restroom.
The interior marble-lined, brightly lit restroom was as spacious as it was stylish. The accessible restroom stall allowed plenty of room for me to drive my scooter into and make the necessary turns to get situated. It also provided both vertical and horizontal grab bars near the toilet, while a seemingly small detail, goes quite a long way when accommodating people with different abilities.
Overall our evening was filled with good food, good friends, and great conversations. I give Bagatelle 5 stars for its delicious food, friendly staff, an inviting environment and most importantly - its overall accessibility for the Handicapable community!
Bagatelle NY Restaurant 1 Little W 12th St New York, NY, US 10014 > Call 212.488.2110
www.bagatellenyc/com
By: Antoinette Marie Williams